About Igarashi Electric Works
Greeting
<Creating the Future>

Since its establishment, Igarashi Electric Works, as a dedicated compact motor manufacturer, has engaged in business not only within Japan but on a global scale. This has been thanks to the support of our customers and all of our stakeholders, to whom I wish to express my deep gratitude.

The market is changing at an ever-faster rate, and market needs are diversifying.

Since the start, the fundamental mission of Igarashi Electric Works has been to develop, manufacture, and sell products based on customer needs. We will continue to actively listen to our customers, flexibly and speedily responding to changes, and providing the products and services they need, so that we can earn the even greater satisfaction and trust of our customers and become a company which others truly rely on.

Igarashi Electric Works has also positioned increased employee satisfaction as one of its key management indices. We believe that creating a workplace where employees can actively and cheerfully operate is important to provide customers with high levels of service. The entire company is working as one to create workplace environments which are rewarding to employees, where they can work with ease and a sense of security.

Our company's future success will be achieved by our employees working as one, led by the shared goal of creating together, and contributing to society through the actions of our company.

We look forward to your continued patronage and support.

President & CEO Keiichi Igarashi
Company Philosophy
- We will devote ourselves wholly to "customer-first" policy.
- We will endeavor to improve social life with our skills, products and services trusted by customers.
- We will continue to create the prosperous future of people and the earth.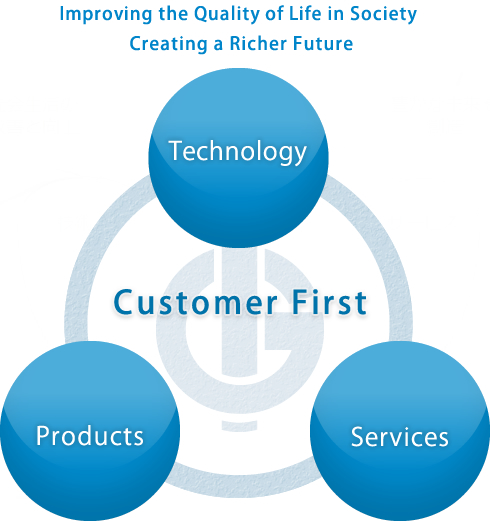 "Igarashi Way"
We chose to represent values using five keywords for the new group concept, the Igarashi Way by extracting the element what values have long been cherished by the group as well as what values would be welcome additions to be shared among the group.
This Igarashi Way will be a code of conduct shared globally across entities, so that together we can realize further growth as the Igarashi Group.
Five Keywords of "Igarashi Way"
Be aware that you are a member of Igarashi, act appropriately based on a wide perspective of how all business processes (including R&D, production, sales, and supporting functions) are perceived by customers and the overall market, as well as what values they create.
Make efforts for self-improvement. Do not be satisfied with the status quo, and always strive for progress, both in terms of oneself as well as products and services.
Avoid passiveness. Take actions with initiative and an awareness that you are the starting point that catalyzes all further actions.
Whether within an entity, across entities, or with customers, have clear, timely, and trustworthy communication based on dialogue and strive for mutual understanding.
In order to provide customers with the best products and services, share useful information and knowledge across departments and entities, and strive to achieve total productivity as "One Igarashi".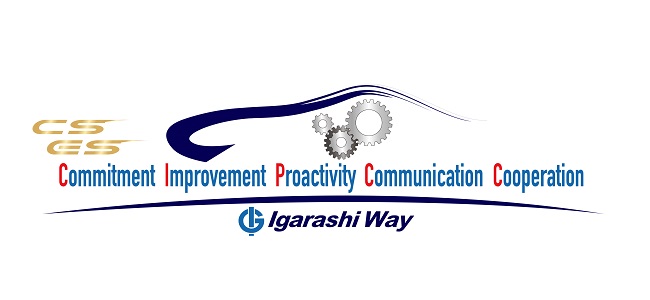 The image is symbolic of the ideal situation of the Igarashi Group, which is heading towards employee satisfaction (ES) and customer satisfaction (CS) based on the five keywords, and is emblematic of the Group which is going forward to the future by enhancing its technical capability as a manufacturer.
Medium-term Management Objectives=IG Universe